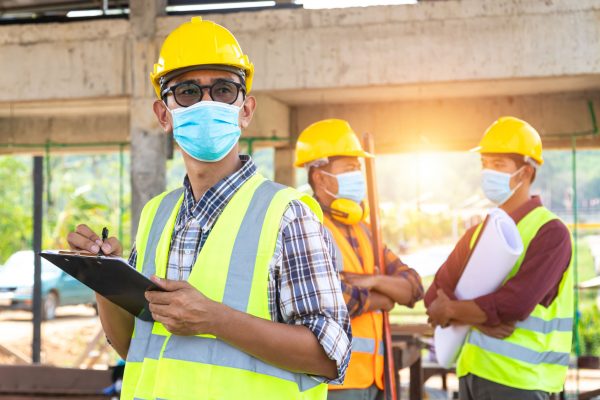 Awaiting the PM's Sunday Statement
For many, the nature of their work and their safety will remain on everyone's minds until PM Boris Johnson addresses the nation on Sunday 10th May at 7pm. Construction workers around the country have been left guessing as to what work will be like in the next few weeks.
Some firms have already allowed staff to return to work, with many independent construction workers continuing on projects while adhering to social distancing rules. Or not, in the case of workers who were attending Pink Floyd star David Gilmour's project in Hove last week, clearly standing closer than the advised distance apart.
Currently, staggered shifts, increased hygiene facilities and physical distancing measures have been used to help stop the spread of COVID-19. Meanwhile, some workers are unsure when they will be able to return to work.
On a poll conducted by LinkedIn, the construction sector came out on top for workforce confidence within their job security. This comes as Michael Gove stated only 8 days after the lockdown was administered, that outdoor construction workers should be able to continue, since they can operate safely with distancing measures.
One of the jobs which is being continued is the eradication of flammable cladding in large-scale buildings throughout the UK. Firms who are tackling the cladding have been given the go-ahead to continue with the fundamental processes which will inevitably save lives.
Some firms have faced backlash for not enforcing safety measures strictly enough, leading employees to not stand within safe distances and ignore hand-washing stations. This has resulted in countless protests from workers and nearby local residents.
What Will be Different?
While many construction workers during lockdown may face redundancies, reduced hours, furlough or financial incentive to continue working, many are anticipating working conditions after the lockdown begins to ease.
One week ago Matt Hancock increased Coronavirus testing to include construction workers after he bowed under the pressure of the industry. This is likely to continue well into life after the lockdown restrictions have begun to ease in order to keep workplaces free of the virus.
In recent evidence from the monthly HIS Markit/Cips report shows that the construction sector has suffered an extreme drop in the amount of work being conducted. The reported activity index experienced the sharpest drop since records began in the late 1990s. While it is undetermined if the construction industry is likely to recover by the end of 2020, officials believe work will increase after lockdown measured are relaxed.
A lot of this comes down to lack of facilities to implement safe working conditions or individuals feeling unsafe with people not members of their household entering their homes – something which still remains against government guidelines, despite some workers flouting this.
With fears among firms of increased economic decline, major contractors have been encouraged to send construction workers back before official lockdown easing. This is to help speed-up the recovery of the economy before irreversible damage is done.
Safety Measures
As we see a gradual increase in reopening sites over the coming weeks, firms will have tough expectations and instructions to follow to keep their staff safe.
Many companies have implemented hand sanitiser stations frequently throughout site entrances, offices and areas of heavy worker traffic. Moreover, companies are using signs to keep their workers aware of distancing measures and how far is a safe distance to operate near another worker.
Staggered shifts are also being introduced to minimise the amount of workers in contact at any one time within the site. These are all strategies which most workplaces, not just construction sites, will have to adopt prior to Sunday's briefing, with some businesses set to open after the Bank Holiday.
While there are global shortages of PPE, many workers will be enforced to wear protective equipment upon return to their workplaces to minimise the spread of the virus, to promote even the spread of germs from those who are asymptomatic.
Businesses Must Remain Positive
While there is no shadow of a doubt, the UK will be in an economic slump for some time, it's important to businesses and employees alike to focus on the future. As disheartening as these struggling times have been, it's key to remain positive in order to work towards economic recovery and view the future with optimism.
Not dissimilar is the decline of the activity index of February 2009, where the construction industry saw a sharp decrease in activity due to the impacts of the UK recession beginning in 2008. Following this, businesses recovered and have since rebuilt their reputations.
It is with a poignant reminder that we face these struggles in tragic and unprecedented times but today with the 75th anniversary of VE day we must remain vigilant and strong as a nation to overcome the times ahead.